A Real Camera Story
Written: 17 May 2021
For a few months now, I have been thinking about getting my very first real camera. A real camera in my view is one that does not come attached to a smartphone. I have travelled different parts of the world and never found the need to carry a camera with me because my smartphone camera was adequate. At this point, it's important to highlight that I am a complete novice and mostly take pictures on AUTO mode, the iPhone does the rest.
However, I am in my thirties now and soon to welcome my firstborn to this beautiful planet of ours. I am very excited, a little scared but mainly very excited and eagerly await the arrival of a junior mere civilian.
It is my desire to capture beautiful memories with my child that I will cherish for the rest of my life. At this point, I looked up pictures that I had captured using my smartphone five to seven years ago, and I found the quality not satisfactory to my liking. I figured, in years to come, the pictures taken today on my iPhone may seem inferior compared to pictures taken using a real camera. In my view, the real competition is between the software prowess of smartphones and the physically larger sensor of a dedicated camera.
Being a tech enthusiast, naturally I was attracted to the world of photography. I watched countless YouTube videos where people capture beautiful imaginary of everyday life. I was inspired to do the same.
I managed to obtain a three-day trial of a fixed lens camera (cost: USD5000 - 47 megapixel full frame sensor, released in 2019) to evaluate the need for a real camera in my life. I rocked up to this magnificent camera store, provided my credit card, driver's licence and signed numerous forms. An hour later, I was at my local park; snapping pictures of anything and everything. Just holding the camera changed my perspective. I felt like a pro photographer, a person who knows what to do with the camera, even though I didn't. This change in perspective also changed the underlying reason for capturing the image. Instead of capturing an image to document my experience, I endeavoured to creatively capture the moment.
I came home, connected the SD card to my iPad Pro, imported the photos. I then, spent countless hours going through the images and reviewing each one. I do not recall doing this when I used my iPhone.
Later that night, after dinner, I went for a walk with the real camera and my iPhone to take night pictures. Both devices were set to AUTO and in both cases, all I was doing was clicking the capture button. The real camera did a terrible job in low light and the iPhone camera automatically triggered night mode and took decent pictures. Both lacked detail. It has since been pointed out to me that it was my failure and not the camera's fault. It's one thing to have a feature packed device in your hands, but it's wholly different knowing how to use it. A real photographer with knowledge and experience will know the correct settings to capture a beautiful image in low light. Sadly, I am not that person.
One of the following is from the iPhone and the other one showcases my poor photography skills: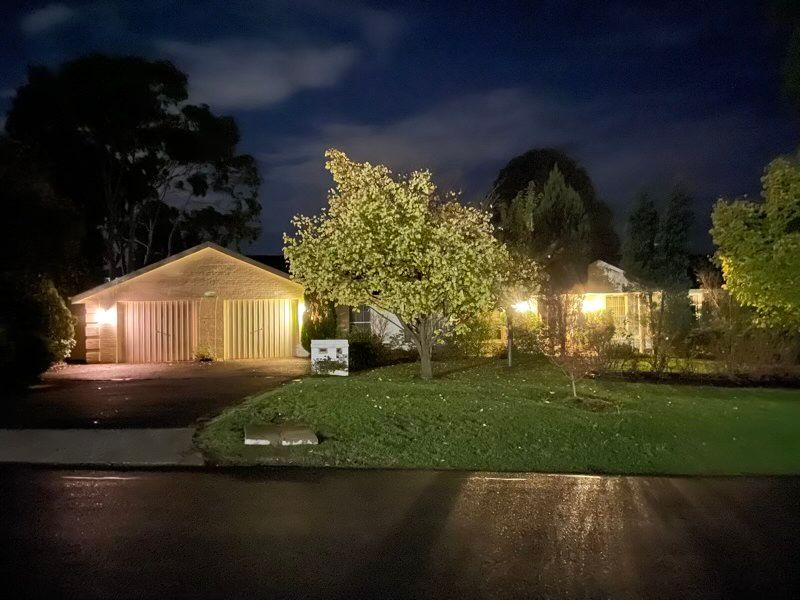 The point I am making is that both devices were set to AUTO and one took an image I am happy with and the other makes me question why this camera retails for USD4999. Regardless of how good a piece of machine is, its usefulness is lost on a person who does not know how to use it.
---
The very next day, my wife and I went for a walk in the park and I took both cameras with me. It was a beautiful day, and I was amazed at the photos the real camera took. The detail was astonishing. However, what I noticed most was the difference in the colours between the two cameras. I may struggle to explain this, but the colour of the grass was accurately captured by the real camera compared to the iPhone. I would not have noticed this if I had not done the comparison. I always thought, if the grass is green, the iPhone camera will capture it as green. The grass was captured in a different shade of green which is not the accurate reflection of what I saw.
What is more amazing is the detail the real camera captures. I took an image of my wife sitting on a park bench and both the iPhone and the real camera captured a beautiful image on a nice sunny day. However, upon zooming in on the iPhone image, I noticed that my wife's face lacked detail and was fuzzy the more I zoomed in. This issue was not evident on the real camera. I zoomed away, and the real camera captured all the detail of my beautiful 😍 wife. At this point, it occurred to me, I rarely zoom into pictures. I take them, I glance at them sporadically but never examine an image thoroughly. And this never bothered me. Does it bother me now? Perhaps a little.. Thereafter, I spent another hour reviewing pictures I took on my iPhone and discovered that when I took pictures of my wife with close distance, the image captured the necessary detail.
Lessons:
iPhone's camera is good but not great.
Real cameras are great, but I don't know how to take great photos using a real camera.
Why am I not acquiring a real camera (for now)?
Taking photos with a real camera felt great, and I enjoyed it. Photography maybe a hobby that I can pursue in the future. However, my current circumstances are different. I have a baby on the way and the underlying reason for this exercise was to explore whether I need a real camera to document my baby's life. What I discovered is that skilled photographer with a real camera can take images that are truly impressive. Unfortunately, I do not have the time to learn this skill. Furthermore, it is remarkable how well and how effortlessly an iPhone can capture an impressive image. Another benefit of an iPhone is that I can give it to anyone and have a reasonable chance that a decent image is captured. This is not true for a real camera. I am a bit self-centred and occasionally, want to be part of the image instead of always being the family photographer. Getting a real camera will most certainly cement my position as the family photographer.
This entire exercise appeared pointless to my wife and family members, but I have learnt a lot about myself and discovered a new hobby in the future to explore.
I keenly look forward to the innovations both in the real camera and the smartphone camera space. Imagine, a real camera with a larger sensor and a powerful chip (such as the A12 in iPhone for advanced computational photography). Perhaps, Apple/Qualcomm and Leica/Sony/Fuji/Canon can work on something together...
---
A conversation is a food and drink for the soul. If this article has sparked some ideas, or you want to discuss it, please email me at [email protected] or contact me on Twitter @MereCivilian. Please share this article with people whom you think may also find it useful ✌️.