Flighty vs App in the Air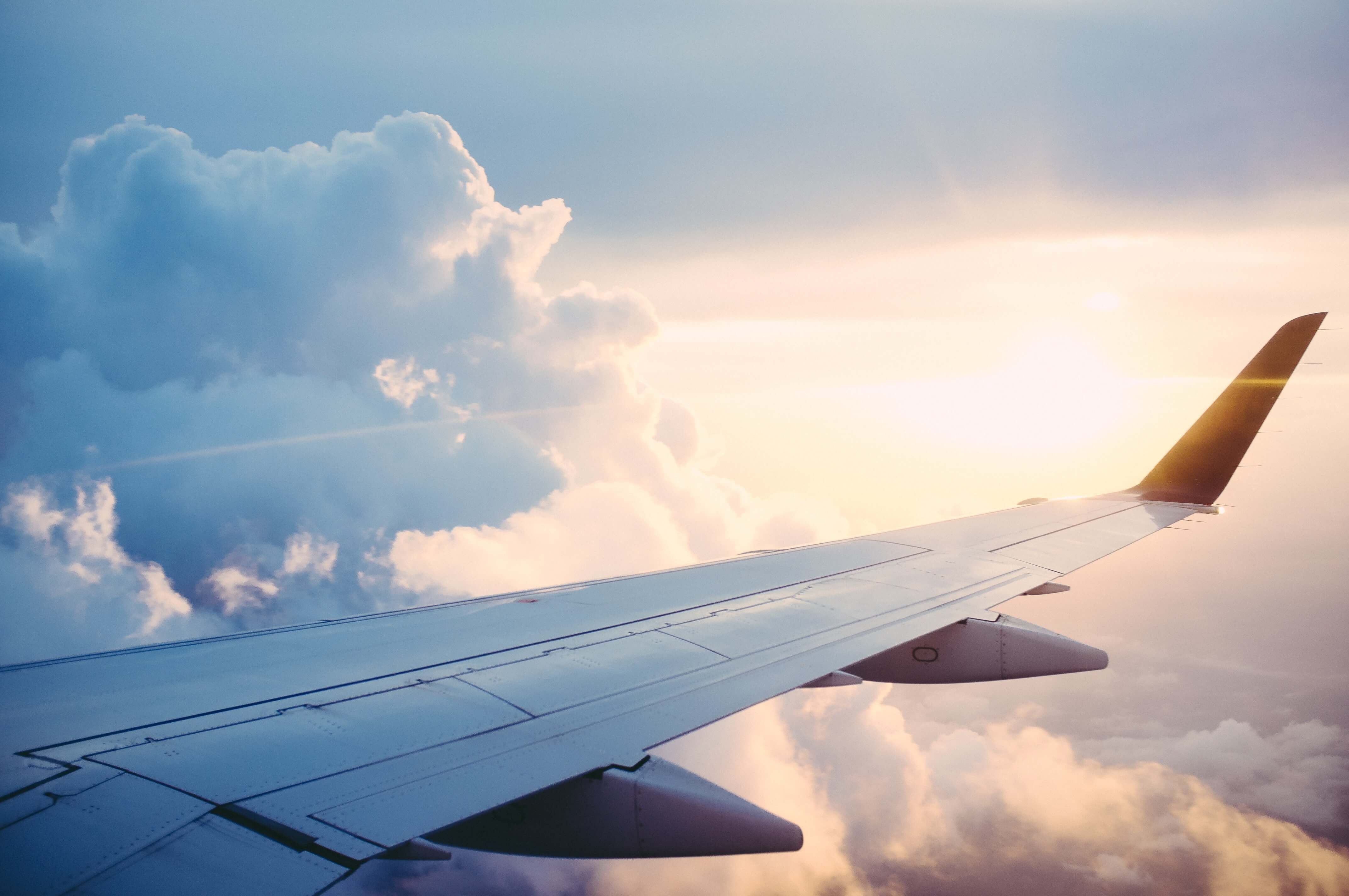 In 2016, I came across an article on The Sweet Setup, which named App in the Air, the best flight tracker for iPhone. Before that, I thought that why the hell do I need a flight tracker. I will address this a bit later. For now, travelling has returned to my life after almost two years of being grounded in one location. I figured, it's time to revisit whether App in the Air is still the best fit for my needs. My search brought me to Flighty.
The Magic of Flighty
Flight Monitoring (Exclusive to Flighty)
Flighty ingeniously monitors your flight 25 hours before its departure. At first, it seemed pointless to me; however, if your inbound flight is delayed, there is a reasonable chance your departure flight will also be delayed.
Example: The following is the flight history for my plane in the last 25 hours before my flight from New York to Chicago:
Flighty is tracking eight trips that the above flight took before my flight from New York to Chicago. This is pretty cool information to have and, in some instances, can predict delays even before the departure airport.
I assume Flighty has access to pilot grade data due to its partnership with Flight Aware and therefore has the required data to perform these computations, likely at the server level rather than on the device.
FlightAware also has an iOS app and obviously, I tested that as well. If Flighty's data source is FlightAware, then indeed FlightAware will also be monitoring flights. FlightAware has a feature called "where is my plan" and "track inboard flight", which only monitors the inboard flight (flight monitors all trips within 25 hours of your departing flight) before your departing flight. This may be sufficient for most people, and it's available free of charge with advertising. FlightAware's presentation of this information is dull and counter intuitive.
Arrival Forecast (Exclusive to Flighty)
Knowing the performance of your flight is also a pretty cool insight. For flight WN5698, it's been on time 8% of the time and 15 minutes late 42% of the time in a 60-day period. Importantly, this one image also tells you that the data is based on 12 trips, which gives the user some comfort that the information can be relied upon. The usefulness of this information is dependent on available flight data. For some flights, "Arrival Forecast" is unavailable due to a lack of data.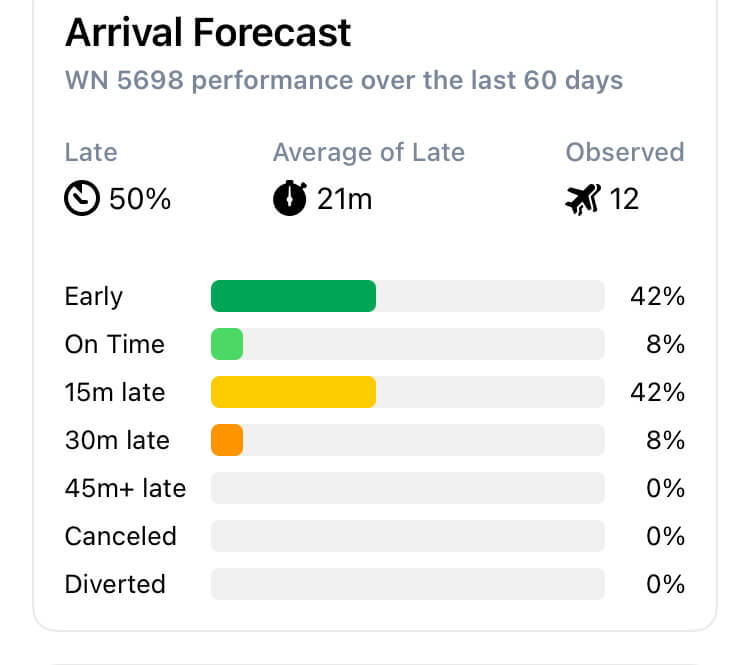 Knowing the Arrival Forecast has practical benefits as well. When booking a flight, I recently discovered via Flighty that the flight I was booking was more than 45 minutes late 50% of the time. I chose to book another flight in this instance. Feature Request: ability to look up this information without adding a flight.
Once again, I checked if the FlightAware iOS app also had this feature. FlightAware will list the last 5-10 completed flights, but it's up to the user to evaluate its performance based on the raw data provided. On the other hand, Flighty collates the data, interprets it, and presents it in a helpful manner where I, as the user, can evaluate a flight's performance at a glance. It's one of those apparent features, yet I have not seen it in other apps, including FlightAware and App in the Air.
Proximity Radar
This is also one of those cool Flighty features but its limited in my view. It allows you to see the planes around you and where they're headed. However, I find that this feature only works on the day of your flight and when you are at the airport. Proximity Radar allows one to explore other flights near you and follow them. I would prefer this feature to be expanded where I can select any airport around the world and see all the flights near that airport. I just like the idea of tracking flights.
Flighty feels at home on Apple devices
I am a sucker for apps that feel native to the Apple platform. There is a beautiful symmetry with how well Flighty slides through with beautiful transitions between areas, and the haptics are a delightful touch.
Flighty has a better Privacy Policy
First, no private information is required in order to use Flighty. In the vast majority of cases, we know nothing private about you.
Link: Flighty's Privacy Policy - 624 words
Link: App in the Air Privacy Policy - 5958 words
I read Flighty's privacy policy in 2 minutes, and I understood most of it. I cannot say the same about App in the Air. This bothers me and may be the reason I switch to Flighty. Lately, I have been thinking of removing TripIT as well and seting up auto-forwarding to either Flighty's or App in the Air email address. I am not thrilled with TripIt's privacy policy (5500 words) either.
Flighty's strength is its presentation of valuable and complex information in a simple, sleek, easy to use interface without sacrificing user privacy.
---
App in the Air
App in the Air does not have the hallmark features of Flighty listed above. That being said, App in the Air does an impressive job of tracking your flight. In my experience, using both concurrently, flighty provided flight-related alerts 30 to 60 seconds before App in the Air. I would call this a tie. That being said, your mileage may vary significantly depending on the flights you track. Therefore, there may be instances where Flighty has better time-sensitive alerts, considering it starts monitoring your flight 25 hours before departure. However, my flight (including the trips before my flights) was on time and therefore alerts from both apps were around the same time.
App in the Air has been in business for almost ten years and has several features that Flighty does not have.
Membership Wallets – track loyalty program
App in the Air allows you to connect to your Airline Membership to retrieve your current airline miles/points balance. Most importantly, if you book directly with the airline, it will automatically import the flight into App in the Air. Both Flighty and App in the Air allow you to forward your booking to an email address to add your flight to the respective App. Both apps have Tripit support. However, auto-importing directly from the Airline is a great feature. One does not have to rely on Tripit or manually (forwarding setup through Gmail filter etc.) emailing your flight tracker app of choice.
Interestingly, App in the Air can monitor your points in many memberships including Hotels, Car Hire etc.: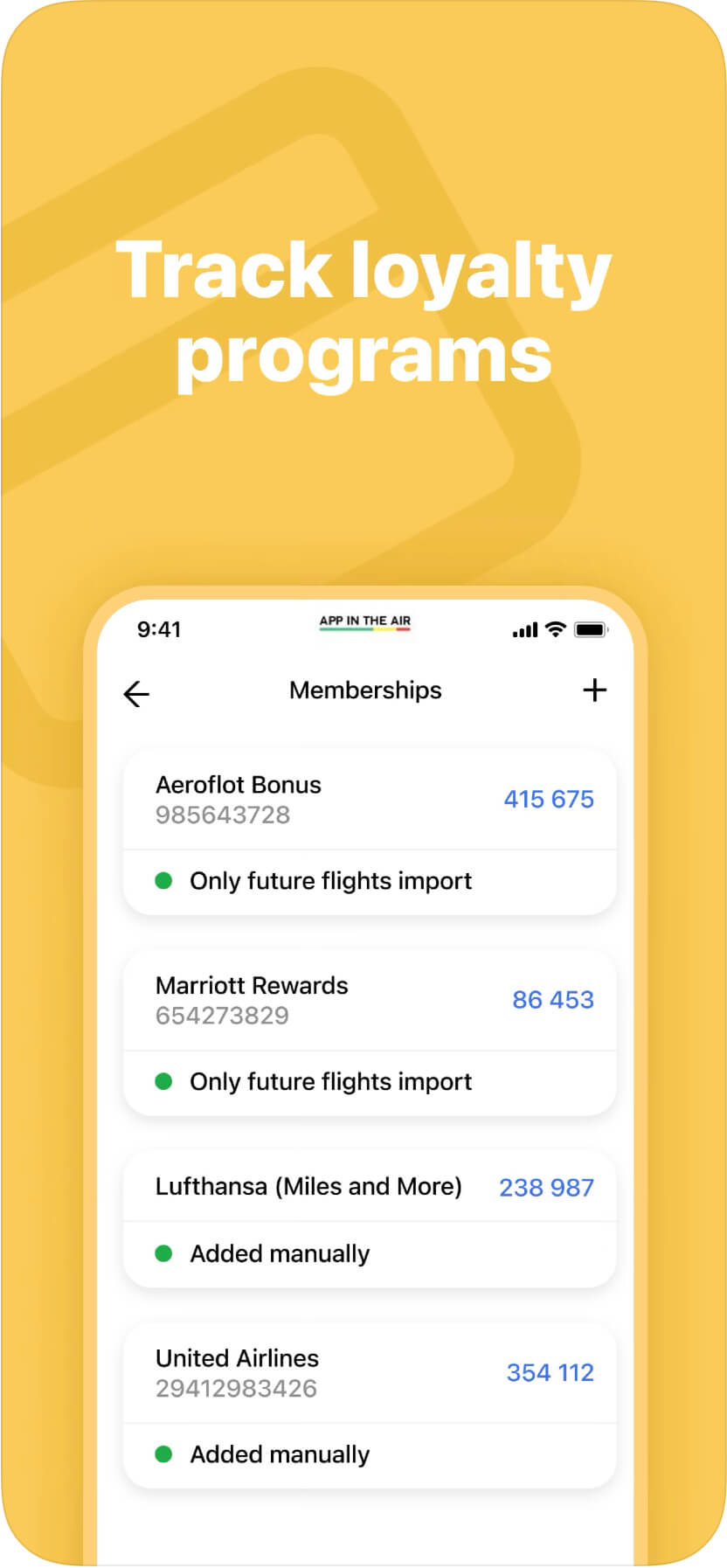 Apple Watch
Flighty, being iOS first, still does not have an Apple Watch app. The usefulness of an Apple Watch cannot be understated.

I have for years, found the App in the Air Apple Watch app to be handy:
The Apple Watch complication shows the relevant departure gate.
Siri watch face support
Nudging during the flights to stretch
Advising you of the time until landing
Documents
App in the Air allows you to
add documents such as flight, hotels, car hire bookings.
Scan your boarding pass into the app
have a pre-populated packing list
Unfortunately, in the last four years, I never used any of the above Documents related features.
Other App in the Air features
Airport performance
Flighty provides information relating to the performance of the flight/trip. App in the Air provides estimates as to how long it can take to get through the airport: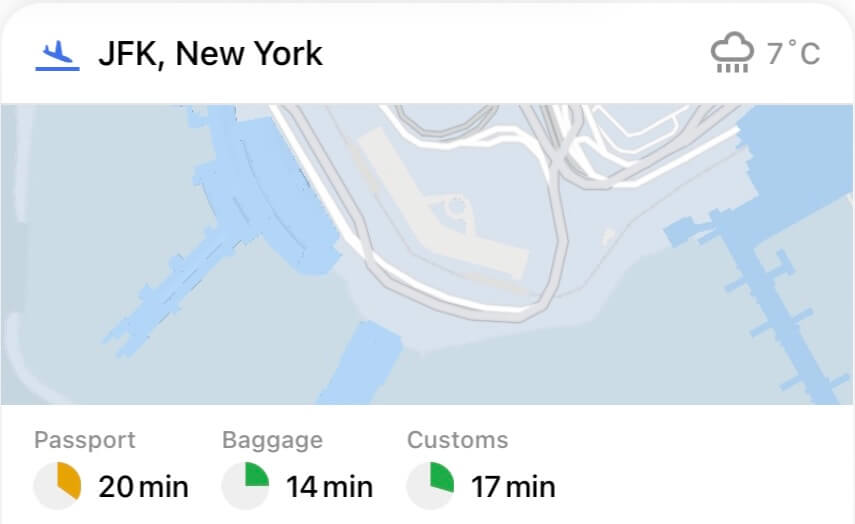 In New York, passport control can take 20 minutes, and customs is 17 minutes. I have used this information in the past, especially when picking someone up from the airport. It gives me a guide to ensure I am there on time rather than early. I will be waiting at the car park if I am early, which isn't cheap.
Multi-Platform
I appreciate that App in the Air is on Android (including the Android watch app). Indeed, nice to have if I switch to Android in the future.
Flight and Hotel Bookings
I am one of those who prefer to use a browser to book flights and hotels. Perhaps I am old school. To give the benefit of the doubt, I found the flight I was looking for through my old school ways. Amazingly, so did App in the Air with a few dollars cheaper. App in the Air also plants a tree for every booking.
Frankly, I would prefer my flight tracker NOT have flight/hotels bookings facility. This weakens App in the Air's privacy policy because now it is collecting more information than a flight tracker should. In addition to my flights, it knows my address, contact details and billing information. This is also why I do not use this feature. Flighty's privacy policy is miles better because Flighty is solely focused on flight tracking and therefore does not need my personal information.
AR Baggage Measure
This may be gimmicky, but I had a lot of fun measuring my bag to ensure it's within the limits of carry-on luggage. I only used this feature once, so it's probably a gimmick. The hand piece of knowledge with this feature is App in the Air will tell you the specific limits the Airline enforces. Each airline has varying limits, so it's beneficial to know.
Auto Check-in
App in the Air can automatically check you in when check-in for your flight opens. The app also provides timely reminders such as check has opened, "x number of hours until check closes".
Subscribe your family to updates
This feature I have used multiple times where my family automatically gets alerts providing them updates on my flight. My family members do not need to have App in the Air installed, and alerts are sent to their mobile as an SMS or emailed to their nominated account. Flighty allows you to share live tracking of your flight with family and friends. I much rather prefer family members are alerted for flight delays etc.
---
Widget comparisons
Widgets are helpful for glanceable information, and both Flighty and App in the Air have widget support. Flighty's widget supports dark mode and change automatically based on system settings. App in the Air only has dark widgets.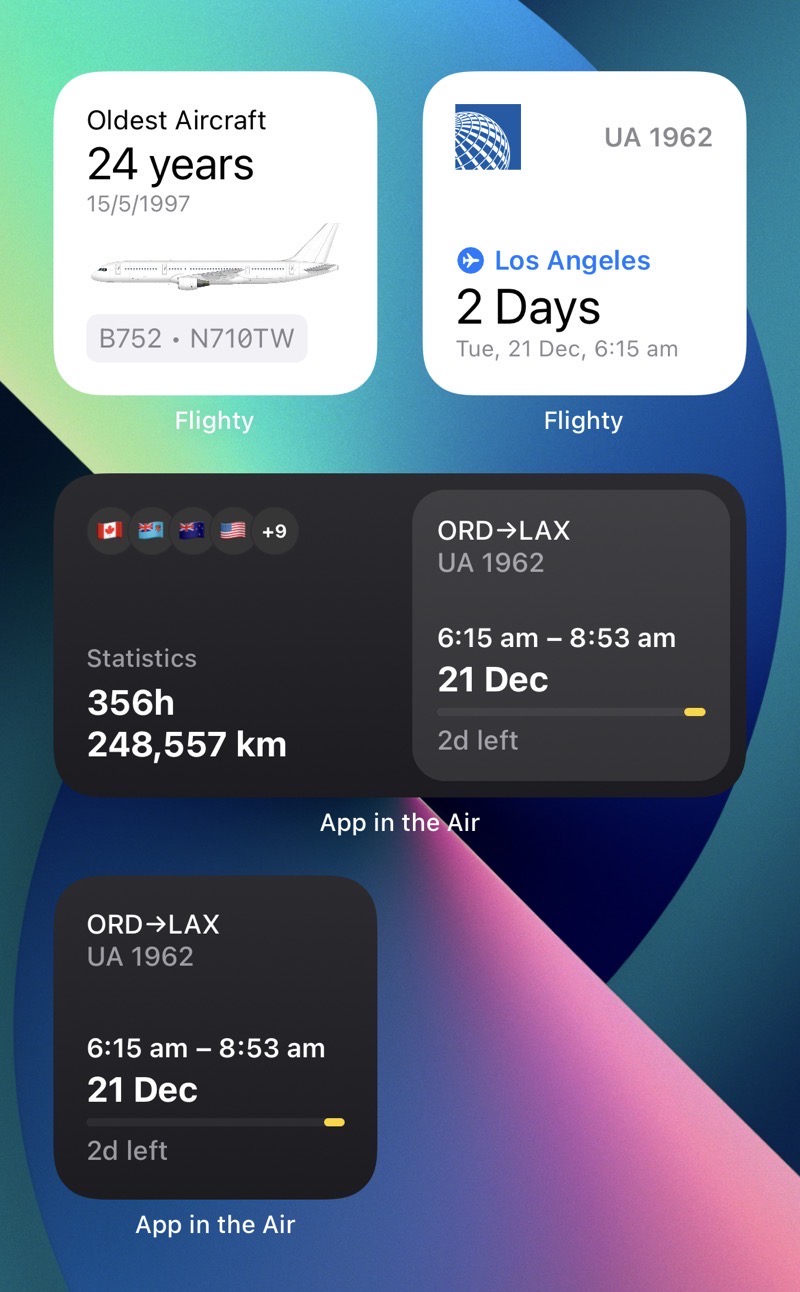 Flighty is limited to only smaller widgets. App in the Air has a larger split widget which reminds me of Weather Line (made by Flighty developers). I am sure Flighty eventually will have a larger split widget. It seems like a no brainer at this point.
App Icons
Flighty only has one icon, and I am not expecting this to change anytime soon. However, App in the Air has a few options, including a Christmassy one which I am rocking as we speak: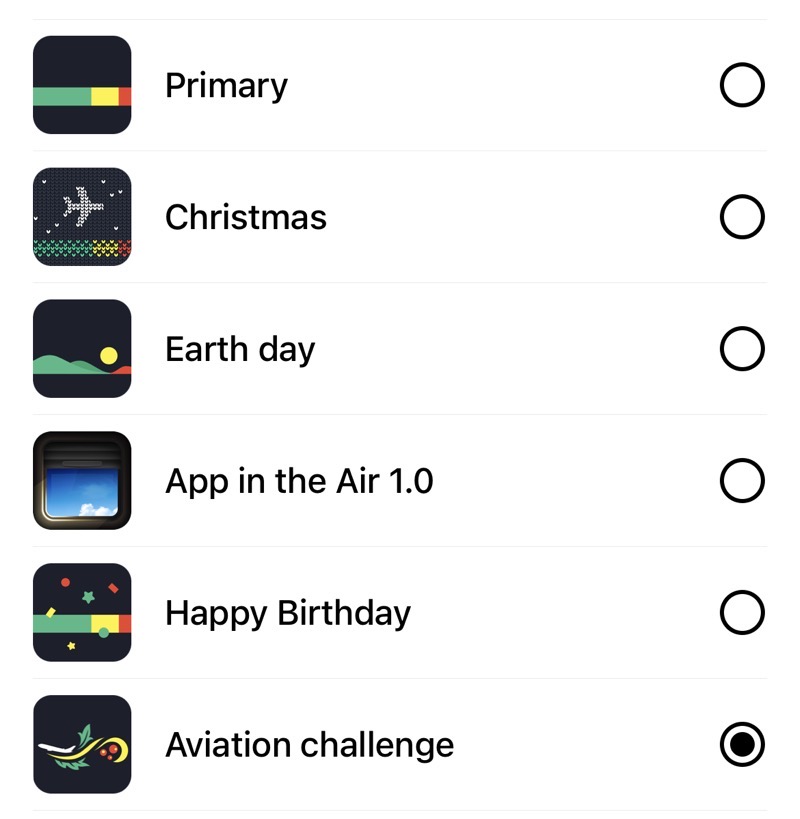 ---
Room for improvements to Notifications for tracking flights of family and friends
Both apps allow you to track flights for friends and family. However, it's odd that I get notifications for gate change etc for those flights. From my perspective, I only want important notifications such as major delays. Granular control over notifications will be a very welcomed feature for both apps. Surely, the needs are different when tracking my own flight compared to others yet neither of these apps take this into consideration.
Flighty also shows all flights in one view. While, App in the Air has opted to segregate flights for friends and family in another view. It takes 2 taps to switch views which is mildly annoying.
---
What kind of traveller am I?
Perhaps it is easier to say, what I am not:
I am not a frequent flyer
I do not work in the aviation industry
I do not need to track flights to the level that I do.
I travel 3-4 times a year for pleasure, and I have an unhealthy obsession with flight tracking. In addition, perhaps 6-10 times a year, I pick up family and friends from the airport.
Based on the above, some may rightfully conclude that I do not need a flight tracker, and I would agree with this assessment. But in life, we have only used or bought something because we need it. The majority of our purchases are for wants rather than needs.
Pricing
Both App in the Air and Flighty have monthly, annual and lifetime pricing options. In 2017, I paid for the lifetime version of App in the Air and have subscribed monthly to Flighty.
What am I choosing as my flight tracker?
I still, unfortunately, am somewhat torn. Both apps have their distinct advantages over each other. Flighty is the more expensive of the two, and whether it is worth paying extra for Flighty depends on how much use/enjoyment one gets out of the Flighty experience.
This journey of evaluating both flight trackers has not resulted in a clear winner, making it difficult for me to decide. If I didn't own a lifetime version of App in the Air and started from scratch, I would go with Flighty because of its privacy policy. With that said, App in the Air has many useful features added over its 10 years of development.
If you are looking for the best app to track your flights, your search should end at FlightyApp.com
If you are after additional features on top of flight tracking, App in the Air is pretty good.
---
This blogpost was written for my personal evaluation after spending two months with App in the Air and Flighty