IFTTT - Trust, Ownership, Control and Business Model
Who owns IFTTT? How IFTTT makes money? Can I trust IFTTT with my data?
Since 2013, I am using the If This Then That (IFTTT) service and have the following services connected with IFTTT:
Google - Calendar, Sheets, Google Assistant
Spotify
Wemo
Android and iOS - location, phone calls, messages, etc.
Sonos
Phillips Hue
Twitter
Instapaper
Slack
many more
I recently had to reconnect one of my services and I took this opportunity to review all the services that I had given IFTTT access.
That led me to ask the following questions:
Who owns IFTTT?
How IFTTT makes money?
Can I trust IFTTT with my data?
What is IFTTT?
For completeness:
Wiki: IFTTT is a freeware web-based service that creates chains of simple conditional statements, called applets. An applet is triggered by changes that occur within other web services such as Gmail, Facebook, Telegram, Instagram, or Pinterest.
---
Who owns and controls IFTTT?
Who owns and who controls any entity can be two different things. In the recent past, there have been significant changes in who owns IFTTT.
Control:
For a private company, control and the responsibility of the company is on the CEO's shoulders. IFTTT co-founder, Linden Tibbets is the CEO and has been leading the company for over 10 years.
It appears there was a brief changeover in Feb 2019 when Chris Kibarian had taken up this role and Linden Tibbets held the role of Chief Design Officer in IFTTT. It's unclear when Linden Tibbets took back the reign. However, Linden Tibbets's twitter profile and LinkedIn profile confirms that he is the CEO of IFTTT. It gives me added comfort and confidence when companies are led by their co-founders. Historically and we do not have to look that far back, the famous case of WhatsApp founders leaving Facebook is a stark example of an excellent product losing its spirit in the wrong hands.
Ownership:
This is where things get tricky and more interesting. It is easy to find out who are the owners of publicly listed companies like Google, Amazon, Walmart, etc. For example, we know that Walton family hold over 50% of shares in Walmart and have significant ownership and control of the Walmart business.
For a private company like IFTTT, there is no requirement to disclose to the public, and it is at IFTTT's discretion on what to share. In most cases, private companies by nature prefer to be private and disclose information relating to their products rather than information relation to the behind-the-scenes operations etc. IFTTT's About Page makes no mention of the people behind the company. In saying this, on certain occasions, start-ups disclose who is investing in their business and this can be advantageous for them. When a large and reputable investor invests in your business, in most cases this gives the market a sign that this is a good business and increases its credibility. This alone can aid in future fundraisings and introduce smaller companies to larger companies with the aim to partner with them to supply a solution to the market.
Based on publicly available information, we can make the following statements with confidence:
The co-founders, Alexander Tibbets, Linden Tibbets are still working in the company and are expected to hold significant ownership and control.
IFTTT has had many fundraising rounds to expand and grow IFTTT.
Total funds raised privately amounts to USD63m
IFTTT is funded by 23 investors
Breakdown of the investors (not an exhaustive list):
Some remarkably interesting names listed above. I recommend browsing their websites (linked above) to discover what other businesses have attracted their investment and to gain insights into their thinking and expectations from their investments
Breakdown of how much money they invested in IFTTT and how many investors were part of each funding round (not an exhaustive list):
Jan 2012: $1.5m (16)
Dec 2012: $7m (3)
Aug 2014: $30m (3)
Apr 2018: $24m (4)
No publicly available information shows any of the above investors have sold their interest in IFTTT. Besides, it appears the IFTTT business is incredibly attractive and unique as clear from the interest shown by IBM and Chamberlain in its most recent funding round in 2018.
Regardless of the increase in fundraising over the years, IFTTT has remained free for consumer use (😀🎉). Also, there is no sign the investors are negatively affecting the philosophy and/or mission of IFTTT. This, by itself, is monumental news for consumers. The increase in funding has allowed the founders to expand IFTTT's services and build a business model for longevity.
---
How does IFTTT make money? What is their business model?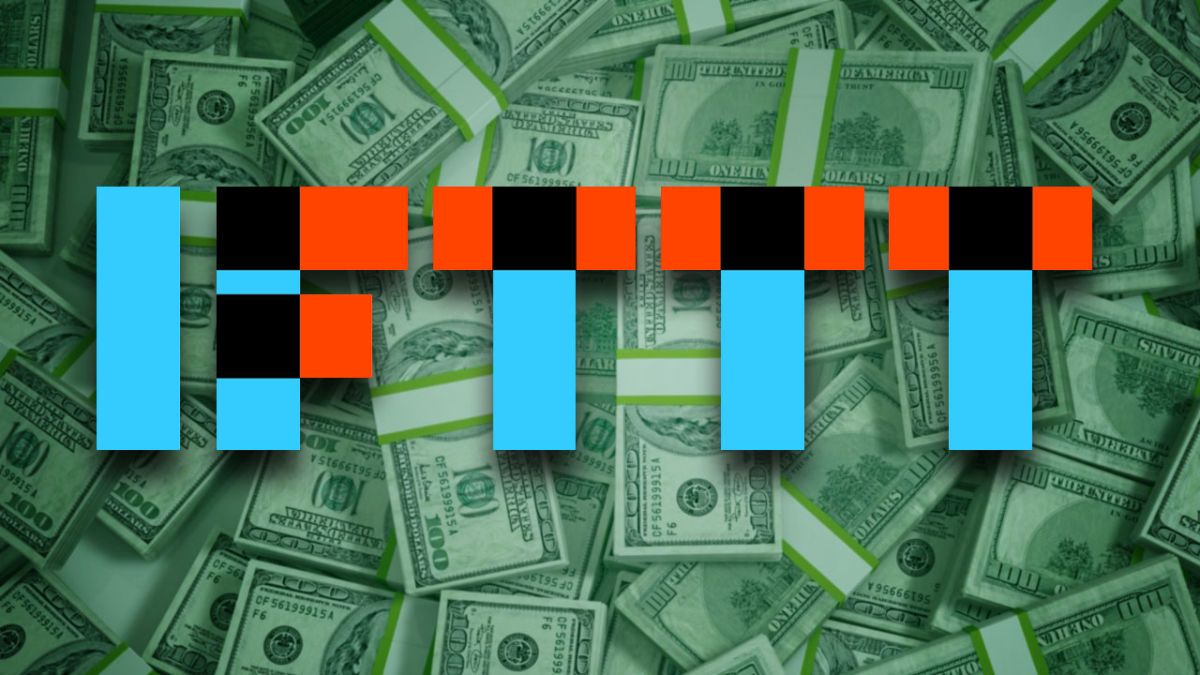 The IFTTT service was first available to the public in 2010. However, a business model was launched five years later in 2016 introducing the IFTTT Partnership Program. The point being, IFTTT in its founding years was focused on growing user base rather than profits. This strategy turned out to be fruitful as IFTTT became a consumer-first brand for automation. Being popular amongst users is valuable for investors, as shown by the funding founds.
Below is a brief timeline:
2010: IFTTT launched 🎉
2016: Phase 1 IFTTT Partners can embed IFTTT-functionality directly in their apps.
2017: Phase 2 Maker Tier for $199 a year for allowing developers to embed IFTTT-functionality directly in their apps. Some features are limited to IFTTT Partners. IFTTT renamed "Maker tier" to IFTTT Platform.
In 2020, the business model has not diverted from what was in place in 2017. IFTTT revenue streams are from IFTTT Partners and through IFTTT Platform (developers)
IFTTT Partners
It is unclear how much revenue IFTTT derives from IFTTT partners like Google, Twitter, GE, BMW, etc. However, sometimes, IFTTT is utilising publicly available APIs and therefore it's difficult to see these partners paying IFTTT for embedding their API with IFTTT. Let us consider Twitter as an example. Twitter has several publicly available APIs which initially IFTTT utilised to integrate their services. This allows me (the consumer) to automatically tweet when I publish a new article on this humbly beautiful website. I gather there will be agreements in place for some of the partners. However, newer partners are probably paying IFTTT as IFTTT is now in a position where other companies would want to be on IFTTT platform due to their customers demanding and overall popularity of the platform. These days it is almost unheard of for a smart product to launch without IFTTT integration.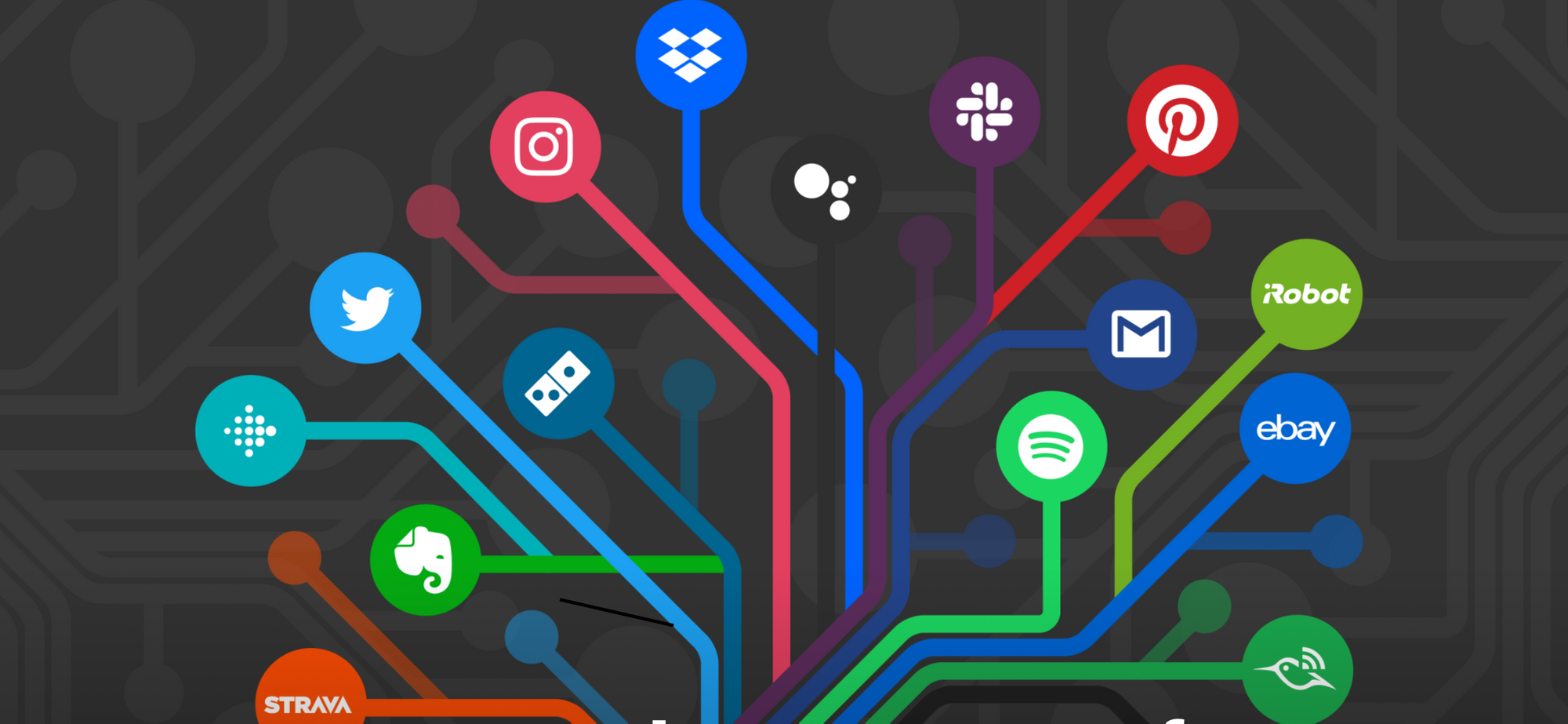 This is perfect if you are a developer/company and would like to publish your API and/or service on IFTTT. An excellent example is Day One. It is a journaling application and with IFTTT integration, it can allow its users to automate journal entries. You can find examples of what you can do with Day One and IFTTT here.
The pricing is very affordable and clever. This allows IFTTT to expand its services, resulting in an increase in its customer base and use of its service. For example, having both Spotify and Day One on IFTTT allows users like me to add a song that I am enjoying to my Favourites playlist, which automatically creates a journal entry in Day One. This is very handy when you look back to what you were listening to months ago, years ago, etc. If you find this cool, check it out here.
The following is a screenshot of a webinar conducted by Linden Tibbets (IFTTT co-founder) on 18 June 2020:
The webinar was for developers and outlined the benefits of integrating their apps and services with IFTTT. For example, Dropbox has over 400 integrations with IFTTT. Dropbox by integrating with IFTTT allows its customers to do so much more without even installing the Dropbox app. This is powerful for Dropbox (the developer) and Dropbox users.
For the Dropbox user, you can do many other things on the cloud which Dropbox as a company did not need to build into the app. This is powerful and will bring new users to Dropbox.
While exploring Dropbox IFTTT integration, I found that I can automatically lock my computer using Dropbox integration with Assistant Computer Control, only due to IFTTT.
IFTTT Pricing summarised:
Developer - $199 a year
Team: fixed price per user. Presumably $199 a year per user.
Business: volume-based pricing.
For details on each plan, explore here.
Differences between plans:

Estimated IFTTT Revenue
This is where I put my finance hat on and like most financial analysts make an educated guess to determine revenue/sales/incoming cash flow, etc.
IFTTT has stated that there are over 200,000 developers and therefore, if we conservatively assume, they are all on the $199 a year plan, then IFTTT makes at least $39,800,000 in revenue each year. This does not factor in revenue from developers in other expensive tiers and any revenue from IFTTT partners. However, this comforts me that without consumers paying anything, IFTTT is making at least $40m a year before accounting for any expenses, which for IFTTT may include:
If my revenue guesstimating is somewhat correct, IFTTT has more than enough revenue to meet the day-to-day expenses outlined above. Does IFTTT make enough to provide a reasonable annual return to its investors? This is difficult to evaluate because the expectations of the investors are unknown and IFTTT's plans may necessitate that profits are reinvested into the business rather than distribute to investors.
What are the investors getting?
Investors are interesting entities; some are 100% focused on squeezing out every dollar of profits and others are passionate about supporting the business to achieve its full potential. Some strategically benefit by owning an interest in a business. The investment by the Chamberlain Group appears strategic as its customers are increasingly embracing automation and with partial ownership in IFTTT, it can guide the company in a direction that benefits them.
Other investors are potentially waiting for their payday. They are waiting for IFTTT to go public and list on the New York Stock Exchange, and this is when most investors make the most money.
Similarly, investors are waiting for an enormous tech giant to acquire IFTTT and this would also be a huge return on their investment. Microsoft has its service. However, Google may be interested potentially for all the data it may access on consumer behaviour from the use of automation. Fingers crossed 🤞 this does not happen.
It is my strong preference that IFTTT remain independent of the big tech giants. The simple reason for this is once you become part of one of the big tech giants, it becomes difficult for you to work with other big giants or other businesses in general.
For example, Nest (owned by Google) to this very day does not support the Apple HomeKit framework.
Apple acquired weather service Dark Sky and the first thing it did was remove the Dark Sky app from the Android platform (owned by Google).
Ring announced in 2016 that they were bringing HomeKit support to their products. In 2018, Amazon acquired Ring and four years from the initial announcement, there is still no HomeKit Support. Meanwhile, Ring has significantly improved its support for Alexa and Amazon devices.
There have been examples where companies remain independent despite being acquired by the big tech giants. Eero, which Amazon acquired has excellent support for both iOS and Android services and was one of the first to support Apple HomeKit. These are early days and it's unclear how long Eero will have this independence to work freely without pressure from Amazon. Already there are concerning signs, for example, Eero securely storing Wi-Fi details with Amazon for easy frustration-free wifi setup. Thankfully, there is a choice for customers to disable this. However, I suspect this feature is enabled by default.
The co-founders have not shared their views on taking the company public or joining one of the tech giants. May the force be with the founders🖖. In my humble view, IFTTT does not require the resources of the big tech to grow. IFTTT need to stay true to its mission and growth will follow - IFTTT empowers people to do more with the services they love.
---
Can I trust IFTTT with my data?
Trust is perhaps not the right word. The question is more in line with whether I am comfortable giving IFTTT access to all my personal accounts for them to provide me with a service that I seek. This is the give-and-take between IFTTT and its users.
What exactly am I giving IFTTT?
It is always important to put things into perspective. The following are some dialogue boxes that show up when we connect IFTTT to different services: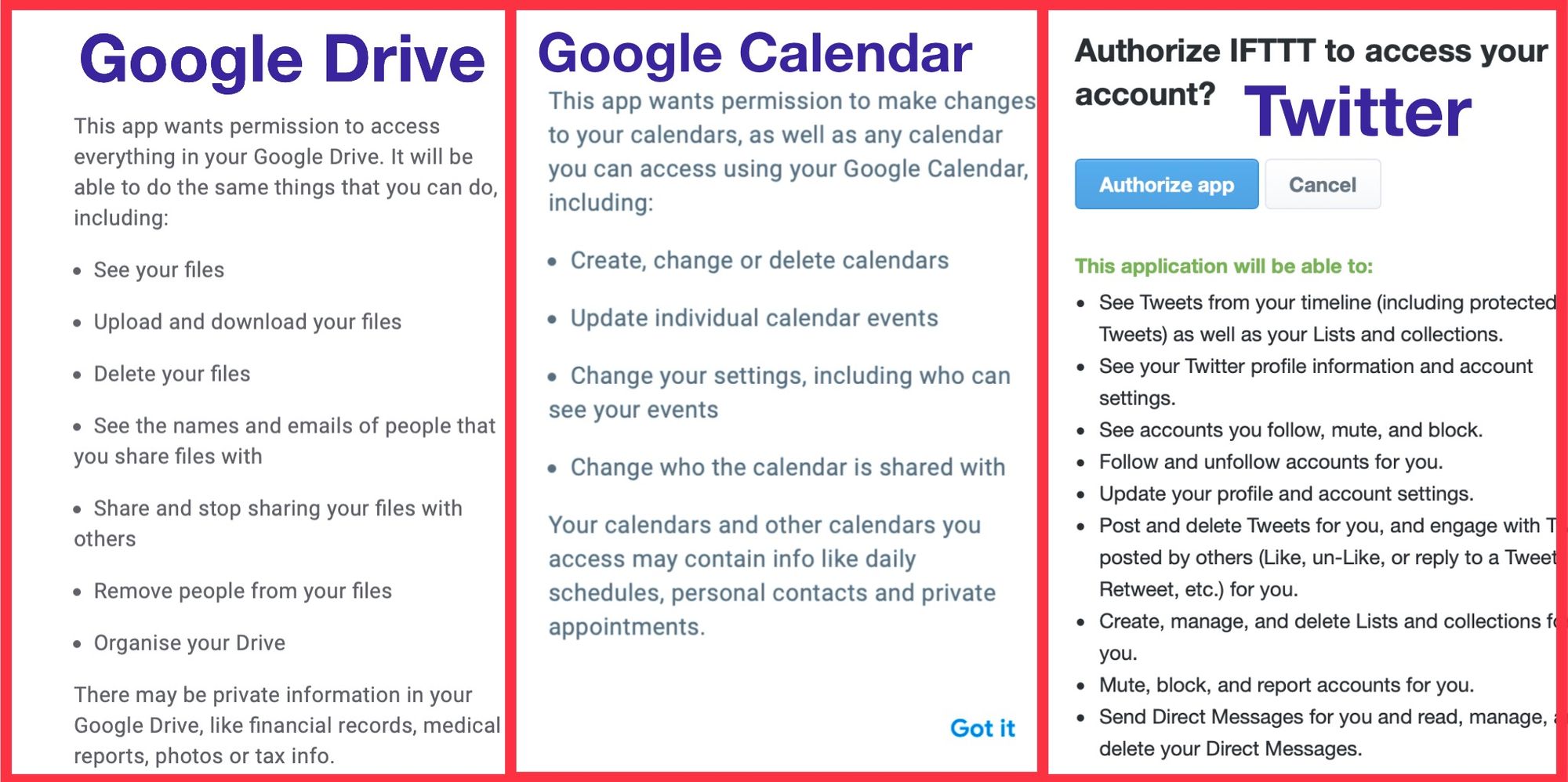 Take the time to carefully review the above image. After reading every word, decide for yourself. For me, IFTTT has more information than I initially thought it did and at first, this scared me a little. As a consumer, you tend not to think about all these things.
I do not care if IFTTT knows what songs I listen to on Spotify or what time I open my garage door. I am concerned if they know what goes in my Day One Journal or my location information through my Android phone. And from a privacy standpoint, what else is IFTTT doing with this data other than providing a service to me.
Is IFTTT selling this data? NO
Is IFTTT sharing it with other third-party entities? YES
Does IFTTT have an outstanding track record in securing my data from hackers etc.? - No publicly available information on security breaches on IFTTT
I expected IFTTT to not sell my data and because of the nature of the service, of course, they are sharing data with other third-party entities. Based on my research, this is limited to the services you have requested IFTTT to integrate with. For example, IFTTT can read my calendar entries and share those with other services based on the automations I have set up. IFTTT will not share my calendar entries with Spotify because I have no such automations in place.
I am taking IFTTT at its word that they are not selling my data. In saying that, I have not found any instance of this being the case and as such, there is no reason for me suspect IFTTT is not fulfilling its promise
TLDR: I trust IFTTT with securing my data and using it appropriately. Now that I know more about the company, I am confident that IFTTT is in excellent hands, has a sustainable business model and is well placed for future growth. I look forward to many joyful IFTTT automations in the future 🙂.
Feel free to share your thoughts with me on twitter @MereCivilian or email me [email protected]. I humbly encourage you to share this post within your socials.