Australia says NO to Novak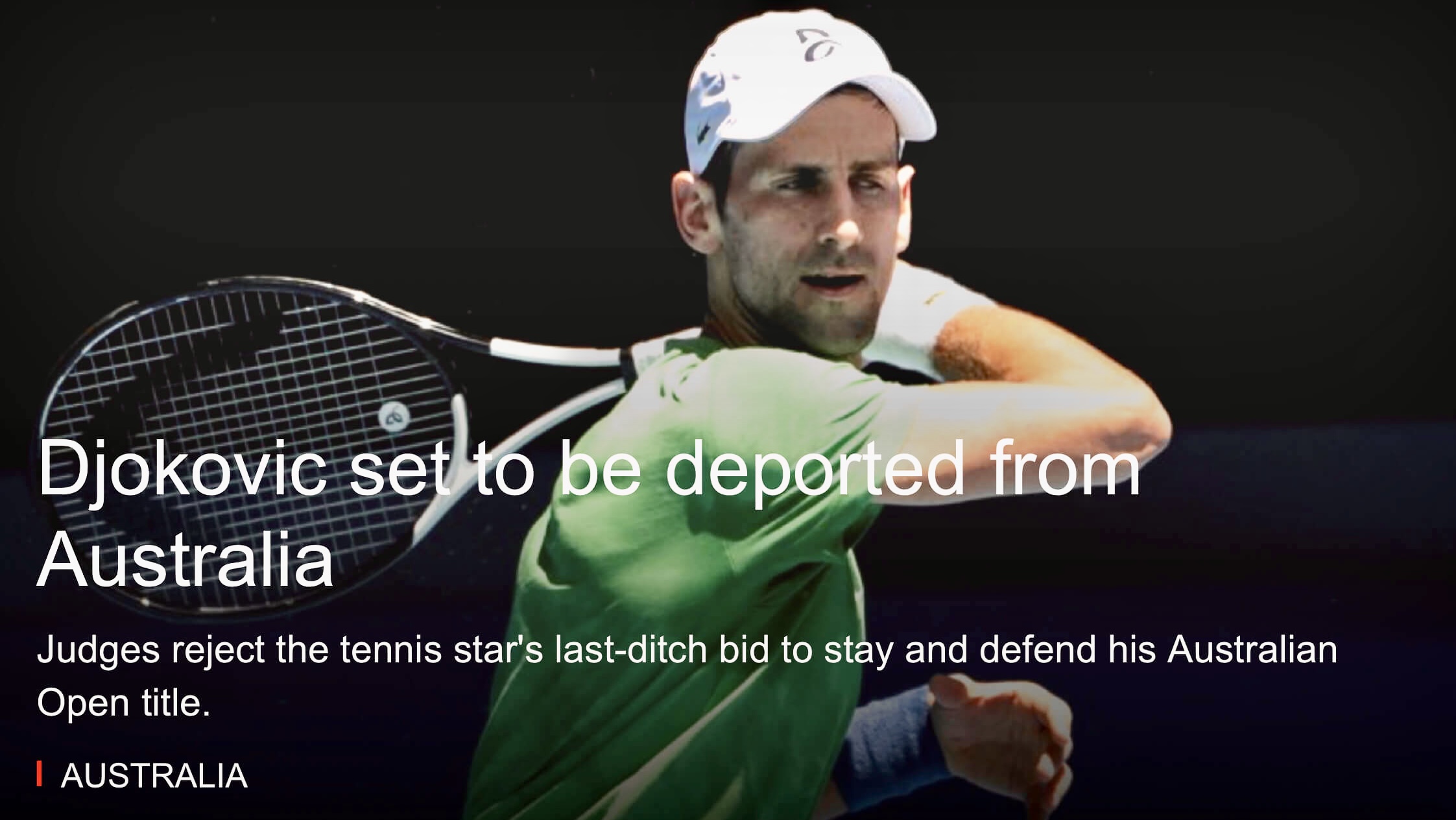 I am a tennis fan and also enjoy following the judicial process. Yeah, I am a bit weird that way. However, when I became aware that Novak Djokovic's visa had been cancelled and Novak had appealed that decision, that moment was equal to grabbing the comfiest chair and the most buttered pop-corn. I was not disappointed. Both parties fought hard, leaving no stones unturned.
The court case, including the judge's decision, was live-streamed on Youtube.
The entire saga lasted more than a week, where Novak appealed twice in the Australian courts. He won the first appeal and lost the second one. The second court case was crucial. As I write this, I assume Novak is packing his bags and multiple tennis rackets to embark on his journey back home. I wish him a safe flight ✈️, and I hope to see him in the next Grand Slam. After all, he is one of the best tennis players I have seen. He now faces a three-year ban from Australia, which I am confident will be overturned next year if the issue of vaccination becomes irrelevant.
What is Novak risking?
Novak chose to jeopardise all of the above by not getting vaccinated.
Australia has one of the highest vaccination rates in the developed world. On the other hand, Serbia (Novak's home country) has struggled to get vaccinated.
MereCivilian's View
Despite being respectful of Novak's tennis skills, I have maintained since last year the view that Novak should not go to Australia if he intends to remain unvaccinated. Novak thought he was a tennis superstar and may get away with it.
Credit to Australia's justice system allowed Novak to appeal not once but twice the decision not to grant him a visa. Furthermore, within 24 hours of his visa cancellation, the Australian judge agreed to hear the matter in court. Other countries may not have given Novak this opportunity. That being said, he only managed to appeal because he hired the best of lawyers money can buy.
This entire saga also shows that Australia has strong border controls in place, which even the world's number 1 tennis player couldn't bend to his will. For this, I congratulate the Australian authorities.
People must respect and adhere to the rules of the country. If your personal views conflict with the country's rules, its best you do not travel to that country.
Crucial findings from this entire Saga
Novak spent a couple of days in detention, which is a hotel in Melbourne. This hotel is not a 5-star hotel, and Novak missed his chef. Novak, on numerous occasions, requested the authorities to allow his chef to cook his meals. These requests were denied. Furthermore, the hotel in which Novak was detained is described by other detainees as having disgusting and cruel conditions.
Importantly, this hotel also detained 32 other people largely stemming from war-torn countries, including Afghanistan and Myanmar (refugees and asylum seekers). It has since come to light that some people have been detained for over five years. For a country such as Australia, this is unacceptable. I accept there could be several reasons for their prolonged detention. Regardless, I expected better from Australia.

I am hopeful; this Novak saga sheds much-needed light on the prolonged suffering of refugees and asylum seekers. I am not optimistic, but let's see 🤞