Read and Write NTFS on Mac for free

I am entirely in the Apple eco-system and therefore, up until recently, I had no need to write on NTFS (proprietary file system developed by Microsoft) formatted drives.
Recently, my brother-in-law provided me an external hard drive to transfer his wedding pictures and videos from my computer. Unfortunately, the external hard drive he provided was formatted in NTFS, so I searched for a solution that did not require reformatting the hard drive. As you may know, macOS cannot copy files into a NTFS hard drive.
There are many paid apps that fill this gap. However, since this was a once-off use case, I did not particularly want to spend the money. It occurred to me that I could download a trial version of Paragon NTFS for MAC but I took this opportunity to expand my search and was rewarded. Seek and you shall find
I found Mounty and it attracted my attention because:
It supports macOS Big Sur
Is FREE (donations welcomed and website is supported by advertising. No advertising in the app itself)
Also available on Homebrew - brew install --cask mounty
Easy to use via the menu bar allowing me to mount the NTFS drive when needed and unmount when the job is done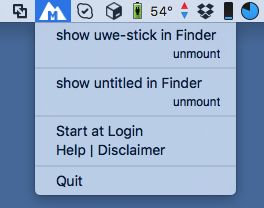 File transfer rates were impressive
Actively developed since 2004
App bundle is significantly smaller at 6mb compared to 45mb for Paragon NTFS for Mac
This nifty little utility performed beautifully.
Therefore, going forward for all my NTFS needs on my Mac, Mounty is my go to solution.