Homescreen 2021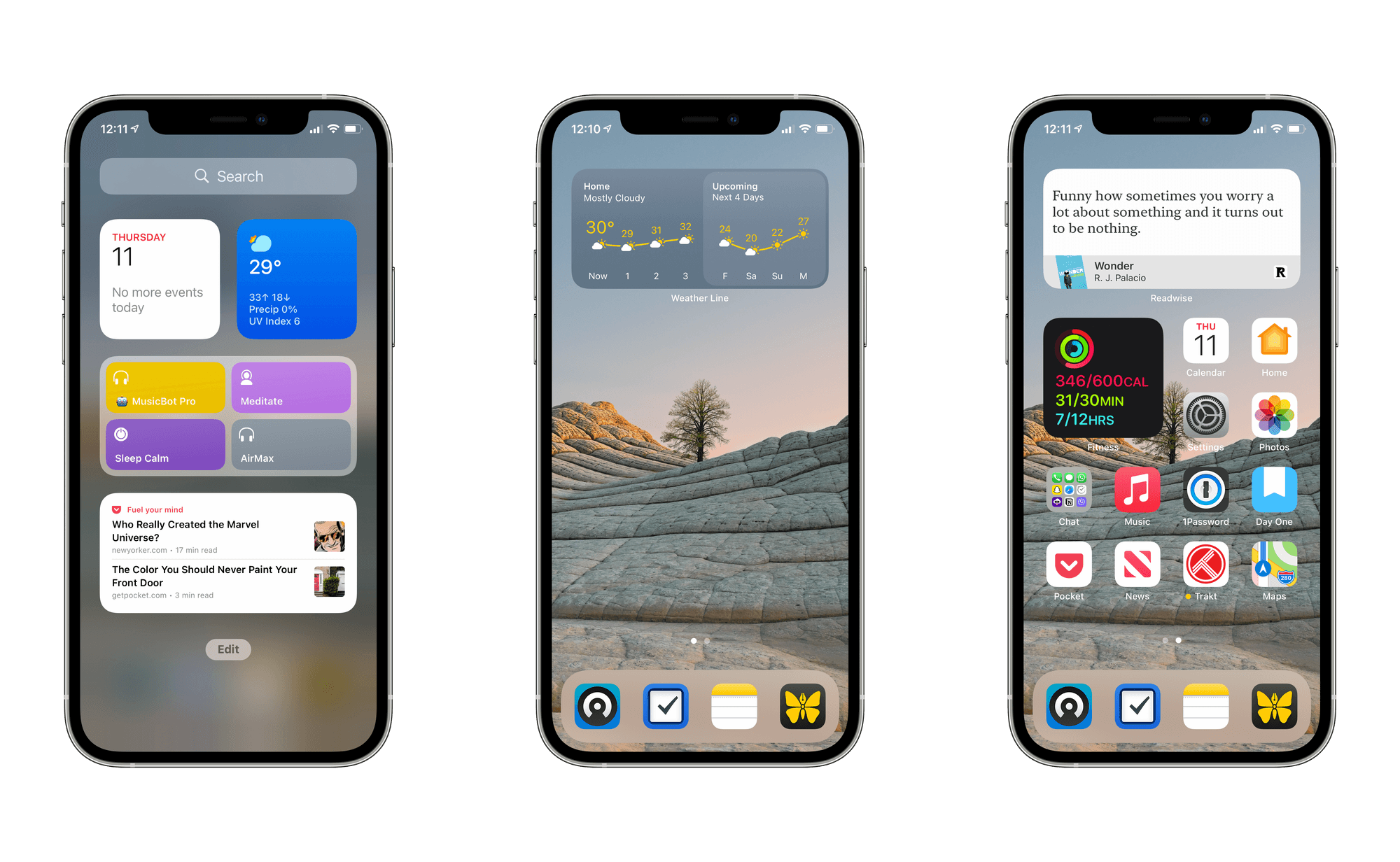 As a tech enthusiast, I take great care in setting up my iPhone homescreen. With that said, I present my homescreen:
When iOS14 was released, like everyone, I was tempted but reverted to my minimalistic approach.

My arsenal of apps includes (not an exhaustive list):
Main Homescreen: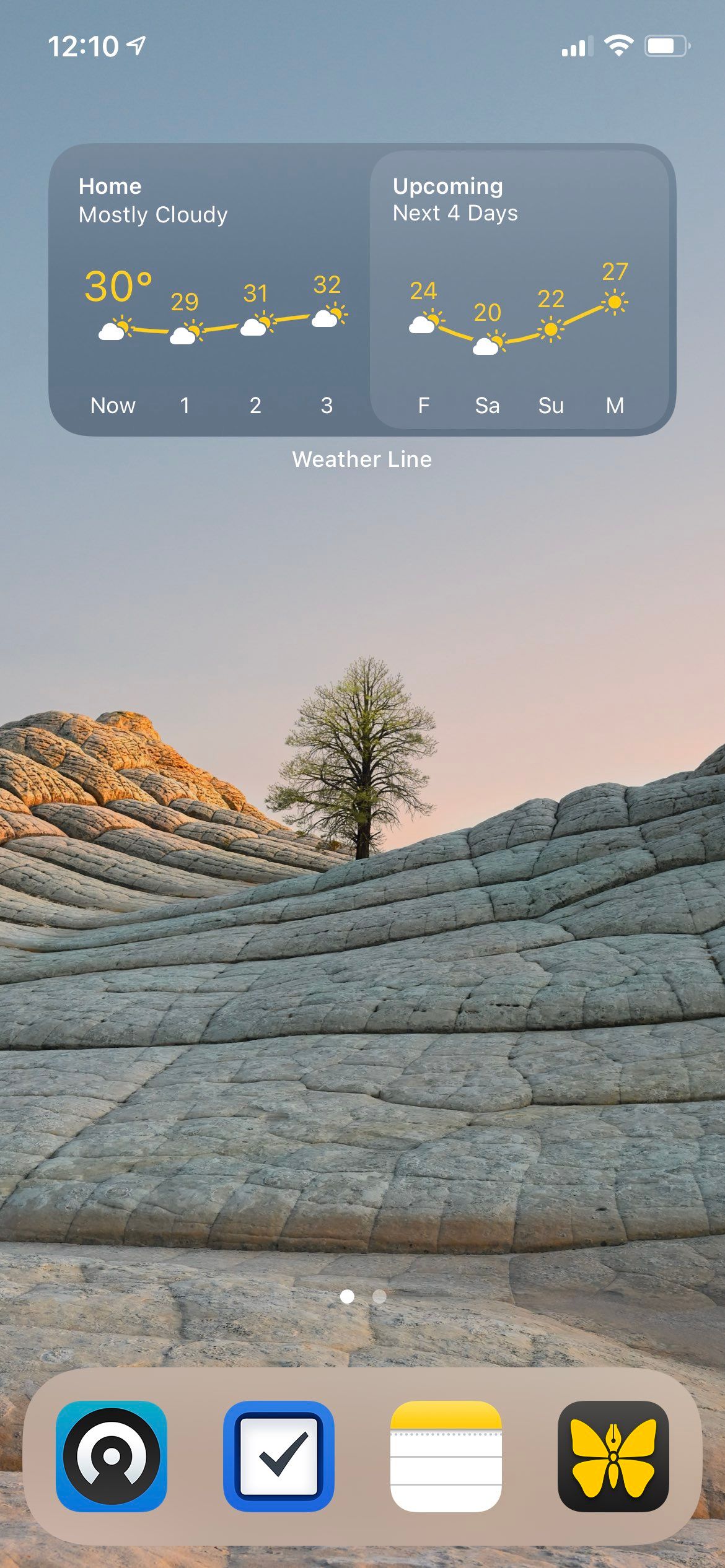 Castro: to this very day, I enjoy triaging podcast episodes by dragging them from Inbox to Queue or library. The attention to detail is surreal and little animations are delightful. Looking forward to the iPad version this year 🤞.
Things 3: my task management app of choice for over 3 years. My only gripe is the lack of attachment support and the inability to complete a repeating task before start/due date.
Apple Notes: note-taking apps have never clicked for me, so this is the default choice under protest. Craft seems interesting, and I will keenly monitor its progress.
Ulysses: each year, Ulysses battles it out with iA Writer and comes out victorious. Use case: writing for MereCivilian and drafting reports for work.
Weather Line: best weather app widget. The developer has intelligently combined two widgets showing the next four hours and the next four days in one beautiful and clean widget.
---
Second Homescreen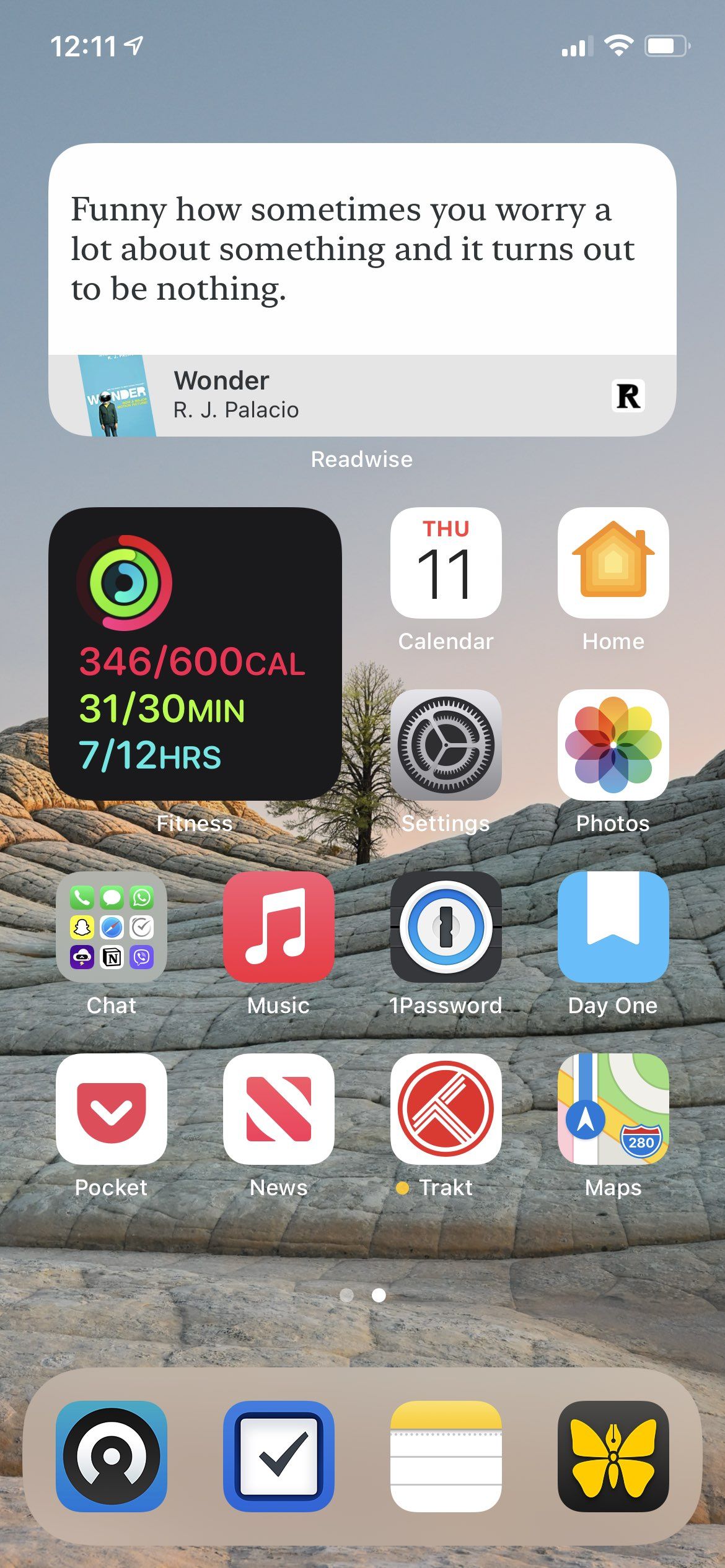 Readwise: this is my most useful widget. It surfaces my highlights throughout the day with little doses of motivation, facts, and amusement. The more you read, the better the widget gets. Here is a glimpse of my highlights surfaced by the Readwise widget: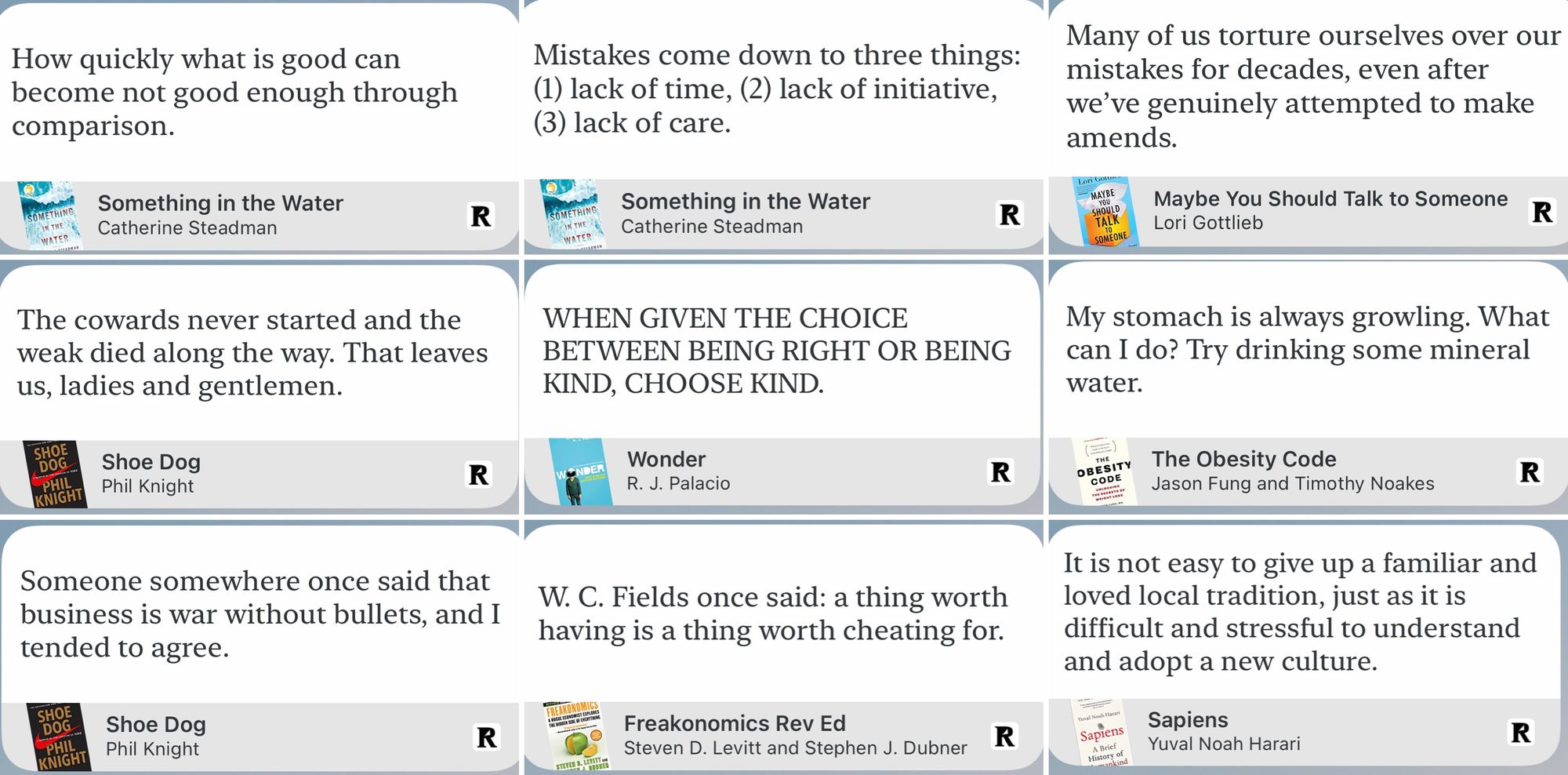 Activity Widget: keeps me motivated to complete all three rings daily. Being active daily is important for your well-being. My current streak is 621 days.
Libby Widget is hidden behind the Activity widget. This is a beautiful app that allows me to borrow eBooks and audiobooks from my local library. My hobby of getting a library card in every city I go has certainly paid off as 90% of the books I consume are borrowed through this app.
Calendar: my calendar needs are basic, and this is the only app that shows the date on the icon.
Carrot Weather: best weather app on iOS and watchOS and with the introduction of v5, the modularity of the app makes me feel like I am making the weather app I want.
Due: thanks to this app, I have never forgotten to take out the trash. The app nags you until the task is done.
Apple Music: my family recently subscribed to Apple One Premier, so I am giving Apple Music a try. It is extremely likely that I will be going back to Spotify (premium user of since 2015).
1Password: my password manager app of choice since 2014. I subscribed to the family plan in 2019, but I still use the iCloud vault to store my password as opposed to their servers.
Day One: changing journaling apps is not a seamless process. Thankfully, in the last 5 years, this app has not given me a reason to seek alternatives. Day One also happens to be the app that uses the most space (11.91gb) on my iPhone. My current streak is 149 days.
Pocket: my "read it later" app of choice and only recently subscribed to the premium version.
News: having recently found a way to remove advertising in the News app, I am enjoying using this app to catchup on news and magazines.
Trakt: the official trakt.tv app that is currently in beta.
Apple Maps: for the last few months, I felt the urge to distant myself from Google services and as such I am using Apple Maps. The "My Guides" feature is nicely done, and my collection is growing.
---
A particular mention to the Calm meditation app that I recently started using after meditating for years with Headspace. The Sleep Stories are excellent.
A few years ago, I had almost 200 apps installed on my iPhone but for the last 2 years; I have drastically reduced this number focusing on the best apps for my use case. I do not envisage a change in this approach anytime soon.
However, I am always experimenting as my needs change. For example, there are no email apps on my iPhone. I have the tendency to keep checking for new emails, so I went cold turkey. This is easier to do when working from home.
It is clear to me that if you keep using one app for a particular use case, you will appreciate the strengths and weaknesses of that app and become a power user. For example, by using Things 3 for so many years now, I trust the system and I know how it works. With time, one builds a history, trust and comfort with the app which is something the new app will not have. Always consider the opportunity cost when making drastic changes to your toolkit.
Less is more
---
A conversation is a food and drink for the soul. If this article has sparked some ideas, or you want to discuss it, please email me at [email protected] or contact me on twitter @MereCivilian. Please share this article with people whom you think may find it useful ✌️.