Journey of getting me computer speakers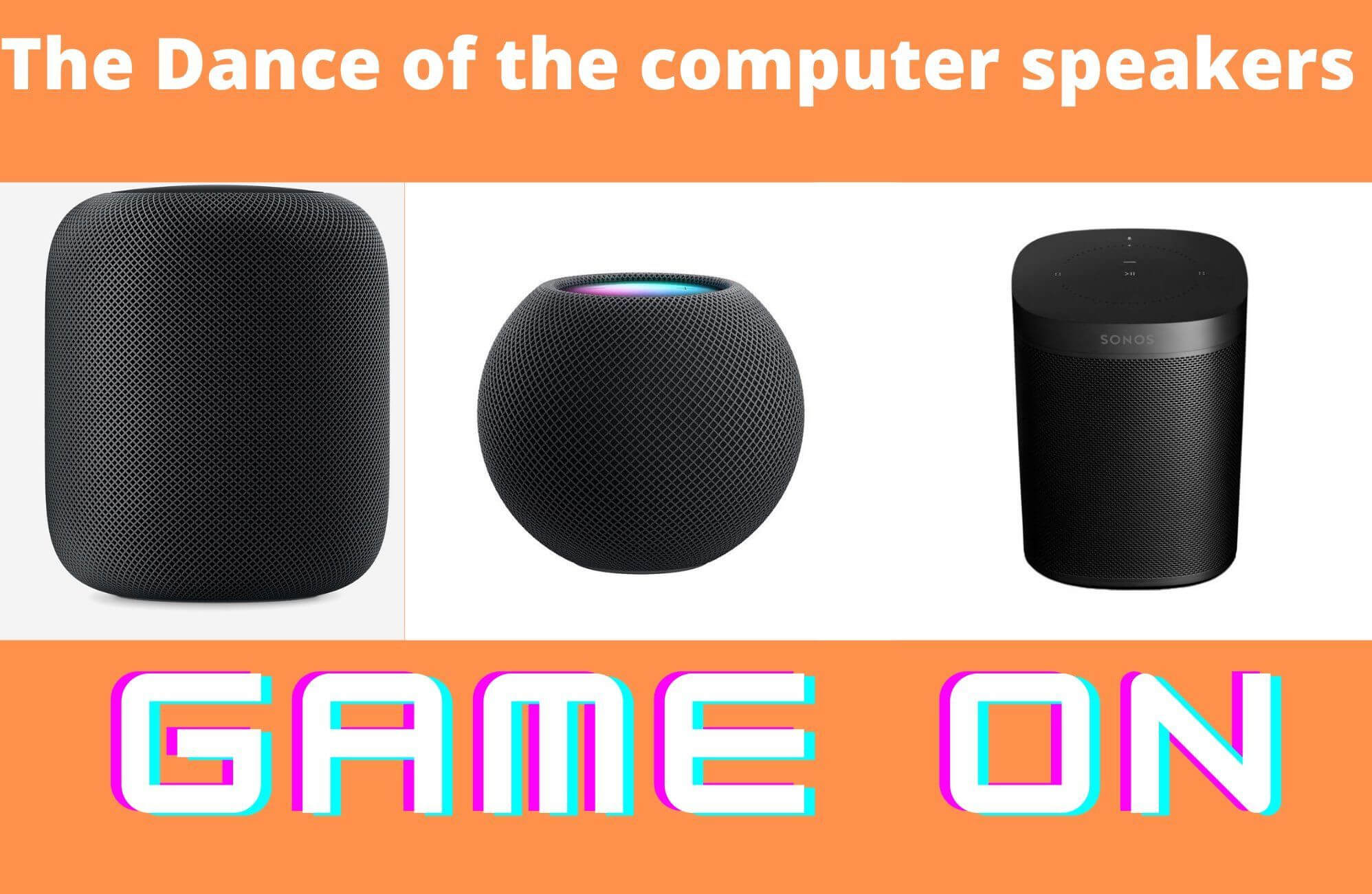 Allow me to take you back to March 2020... Most of the world was working from home, and I was no different. After a week of working in isolation, I started taking a keen look at upgrading my home study. Until then, I barely used my home study since obtaining my master's degree.
I find that sometimes, to distract myself from big problems that are beyond my control, I tend to fixate on smaller problems that I can solve. Sometimes, I invent problems. This was one of those times. For some reason, I figured my study could use a decent set of speakers for music and podcasts.
Four years ago, I acquired my MacBook Pro (2016) and LG 27inch 5K Ultrafine and have always used either the monitor speakers or earbuds for my listening pleasure. Honestly, this was fine for me.
HomePods
Being largely in the Apple eco-system, I bought two HomePods and setup a stereo pair. They sounded remarkable. Jazz and focus music never sounded this good. Podcasts felt as if I was sitting in the same room as the hosts. An added bonus was the ability to use the HomePod for phone calls. I loved them and was pleased with my purchase.
Then, over time, the shortcomings of the HomePod became clear:
Siri never worked consistently and/or reliably.
macOS cannot set the stereo HomePod as default speaker. I suspect that this has something to do with macOS not having Airplay 2 support. Recently, macOS beta 11.3 has added support for this.
After some time, these speakers felt as if they were too big for my study. Even at its lowest volume level, music was louder than desired, especially for focus music (this is the main shortcoming).
Bass, a little too heavy for my liking.
Lack of Spotify Siri support.
Simple automations like playing a local radio station in the morning required an Apple Music subscription.
Limited online radio stations available and many are region blocked.
Cannot add your radio stations through URL.
HomePod phone calls do not work with WhatsApp, Viber etc Only appeared to work somewhat unreliably with regular phone calls or FaceTime audio.
There were enough shortcomings that I sold them on Gumtree.
Sonos One
I am no stranger to the very reputable and reliable lineup of Sonos speakers. The fine folks at Sonos are 100% focused on improving the audio experience within your home. Before acquiring two Sonos One to use as a stereo pair, I already had a few Sonos speakers around my home.
After selling the HomePods, Sonos was the obvious choice because:
Alexa voice assistant is better than Siri with seamless Spotify integration
Once set as a stereo pair on the Sonos app, Sonos One appears as one speaker, therefore works better with macOS.
These speakers are smaller than HomePods with adjustable EQ thus allowing me to reduce the bass and treble to desired levels
Automation support — IFTTT
Alarms: utilised this to start my favourite radio station in the morning and favourite playlist at 8am and relaxing playlist at 4pm to prepare winding down from work. HomePods also has alarms and functions flawlessly with a Apple Music subscription.
Sonos Radio is larger, with more radios supported.
Custom radio support by adding a link.
Plex support: bringing in music from my local collection with minimal work
After going through the above list, myself, I cannot believe that I returned the Sonos One speakers.
Credit, where credit is due, Sonos returns process is straightforward thanks to their 45 days returns policy. Every company should provide a generous returns policy to allow the customer to evaluate their purchase.
I had the Sonos speakers for a month and used them every day and except for the one frustrating issue, Sonos worked flawlessly, as advertised. My podcast client of choice, Castro had connectivity issues with the Sonos. Now and then, playback will not resume on my Sonos after interruptions such as phone calls or when I had paused it for a minute. Over time, this was frustrating.
The fine folks at Castro are trying to resolve this issue, but it is still a work in progress:

I accept that this is not Sonos's fault and other podcast players, such as Pocket Casts and Apple Podcasts, do not have this issue. However, I was not keen on changing podcast clients and this issue was frustrating. Therefore, because of this single issue, I returned the Sonos speakers.
At this point, I looked at other, more computer-centric speakers such as the AudioEngine, but I couldn't be bothered dealing with wires and amps. I wanted a clean desktop setup. At this point, my requirements of computer speakers came with a huge list that included AirPlay 2 which most computer centric speakers do not support (yet).
HomePod Minis
A few weeks later, HomePod mini was launched, and I bought two (impulse buy). Most of the shortcomings from my HomePod experience also applied to the HomePod mini. However, because these speakers were smaller, it had less bass compared to its elder sibling and took up less space on my desk. From a size perspective, these were perfect for my study, and they sounded wonderful. Although, not as wonderful as the HomePods but very impressive for its size.
However, I returned them as well. The reasons for returning these are similar to the reasoning for returning the HomePods, so I will not dwell on it again.
---
Observations
Note, however, that majority of the shortcomings I have listed have nothing to do with its functionality as a speaker. I have found shortcomings that were not an issue before. For example, it never concerned me before, that my LG monitor speakers do not have voice assistant support for Spotify and I didn't have an automation setup for playing local radio. My expectations from the HomePod stereo pair have were higher. and why wouldn't that be the case? It's a premium product from Apple and priced accordingly. It's reasonable for me to expect it to have the smarts to work flawlessly with Apple devices (default macOS speaker). Perhaps expecting it to be seamless with Spotify was a far cry. Spotify may also to be blamed for this.
With Sonos, I could have waited because Castro developers were clearly working on resolving this issue from their end.
Moral of the story
For the last three weeks, I have been using my LG monitor speakers and my iPad Pro speakers in my study, and the experience is fine. It works. I have no other expectations from my LG speakers, and it's delivering on it as promised. Because the audio experience is simply fine as opposed to mind blowing from the HomePods or Sonos, I am less distracted, and the music plays in the background rather than having my attention.
I endured this dance of smart speakers and after 6-8 months, my audio setup in my study is the same as it was before this journey began. Perhaps I was just looking to distract myself from everything that was going on…who knows. Perhaps I was inspired by the Macsetups subreddit.
It is important to understand what your needs are because fulfilling your needs will give you a feeling of calm and contentment. What works for others may not necessarily work for you. My needs were simple, and I tried to overcomplicate things by adding "things" to my setup that I didn't require. I could have saved myself this journey of exploration. It was a fruitful exercise because now, I know what I want, and I know what the HomePod experience is like. If it suits your use case, the HomePods and the HomePods Minis are amazing speakers. Unfortunately, they just are not the right fit for my study.
Less is more
---
A conversation is a food and drink for the soul. If this article has sparked some ideas, or you want to discuss it, please email me at [email protected] or contact me on twitter @MereCivilian. Please share this article with people whom you think may also find it useful ✌️.